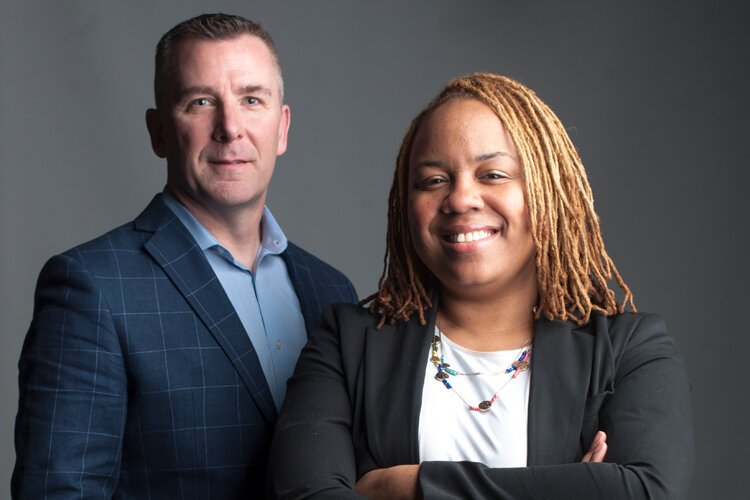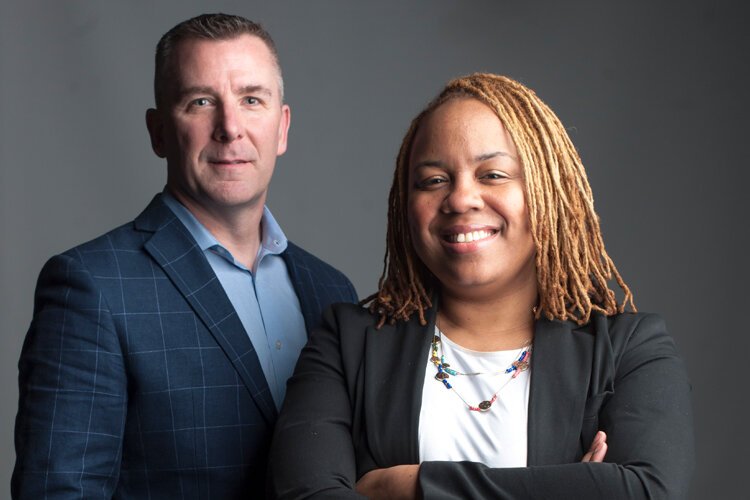 Marygrove College Alumna Racheal Allen to serve as COO; Detroit business leader Tom Lewand to serve as CEO
DETROIT, MICH. – The Marygrove Conservancy Board of Directors today announced the appointment of two executives to play key roles defining and stewarding the future of the 53-acre Marygrove campus in northwest Detroit. Racheal Allen, a Marygrove College alumna, will serve as the Conservancy's Chief Operating Officer, and Detroit business leader Tom Lewand Jr. will serve as its Chief Executive Officer.
As the external leader for the organization, Allen will direct day-to-day operations and financial management of the campus, while overseeing community engagement and partnership strategies. She will lead the Conservancy's continued efforts to engage residents and community leaders to continue the legacy of partnership between the campus and its neighbors. She will also work closely with current partners and tenants to plan and coordinate future projects. Allen will report to Marygrove Conservancy Chairwoman Sister Jane Herb, who is also the President of Sisters, Servants of the Immaculate Heart of Mary (IHM), which sponsored Marygrove College for 92 years.
As CEO, Lewand will focus on fundraising, donor relations and creation of a long-term real estate development plan for the campus. He will also coordinate the P-20 partnership, whose seven members are collaborating to bring cradle-to-career educational programs to the campus. Lewand Jr. will also report to Herb.
"Racheal and Tom exponentially expand the Conservancy's capacity to develop a financially sustainable model while engaging the local community. On behalf of the board of directors, I'm eager to see all that they will accomplish," Herb said.
The Conservancy and its partners have made steady progress to bring the P-20 cradle-to-career campus to life since it was announced in fall 2018. In September 2019, Detroit Public Schools Community District – in collaboration with the University of Michigan School of Education – opened the K-12 School at Marygrove with the first class of ninth graders. That November, partners broke ground on a $15 million state-of-the-art Early Childhood Center which will offer high-quality early education and services to 144 infants, toddlers and their families beginning in fall 2021.
At its full potential, the P-20 campus is expected to educate 1,100 students – Pre-K, K-12 to post-secondary graduate – while also providing child and family support services and community engagement programs.
The Conservancy will also explore other property uses on site that complement the P-20 campus development and support the revitalization of the surrounding community. A master planning process for the campus is underway and includes stakeholders from the neighborhoods around Marygrove and several other community partners.
About Racheal Allen
Allen, 36, brings to the position over 15 years of operational experience, leading start-ups, managing staff and scaling services. Previously, she led operations for the Education Achievement Authority and the Block By Block/Downtown Detroit Ambassador Program of the Downtown Detroit Partnership. Channel 7 WXYZ Action News named her a 2020 Change Maker for her work leading the Downtown Detroit Ambassador Program.
As a 2006 Marygrove College graduate, Allen credits the institution and its people for shaping her personal growth and career path. Allen deeply respects the Conservancy's desire to honor the historical legacy of Marygrove College – which closed in December 2019 – while facilitating the campus's evolution into a P-20 cradle-to-career educational community.
"As a Marygrove alumna, I am humbled and honored to return to this campus and join the Marygrove Conservancy team as a professional staff member," said Allen. "I strongly believe in the mission of the organization and am certain we can make a significant impact on the revitalization of northwest Detroit, starting with the stabilization and preservation of this beautiful and historic campus."
Allen received her bachelor's degree in English/education from Marygrove College and is a Lean Six Sigma Master Black Belt. Racheal has deep roots in the community and small business ecosystem and serves as a facilitator for TechTown's Incubator. She is a current participant in the Detroit Regional Chamber's Leadership Detroit Class XLI and was named a 2020 Woman of Excellence by the Michigan Chronicle.
About Tom Lewand
Lewand, 50, has had a distinguished career in leading some of Detroit's most iconic brands. Most recently he served as CEO of luxury goods retailer Shinola/Detroit LLC since 2016. He previously spent more than 20 years with the Detroit Lions, including serving as team President from 2008-2015.
Lewand is also an active member of the Detroit business and nonprofit community. He currently holds board seats at the Detroit Zoological Society, the Detroit Economic Growth Corporation, the Detroit Mayor's Workforce Development Board, the Parade Company and the Michigan Ross School of Business Dean's Advisory Board. He was also chairman of the Detroit Metro Convention and Visitors Bureau in 2006 and 2007. He was named a Crain's Detroit Business "40 under 40" in 1998 and received similar accolades from Sports Business Journal in 2003 and 2005.
"Marygrove College has been an anchor for the surrounding northwest Detroit community for more than 90 years. By engaging the community, the Marygrove Conservancy can make a contribution to the neighborhood's revival today and to a sustainable path for decades into the future," said Lewand.
He earned a Bachelor of Arts degree, as well as MBA and juris doctorate degrees from the University of Michigan in Ann Arbor.
# # #
About the Marygrove Conservancy
Established in 2018, the Marygrove Conservancy is a nonprofit organization whose mission is to preserve the legacy of Marygrove College through equitable stewardship of a campus that exemplifies excellence in education, serving Northwest Detroit and the city overall. For more, visit marygroveconservancy.org.